Thursday, February 7, 2013 Fear, Uncertainty, Doubt: Microsoft Shifts Attack On Google To Gmail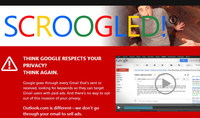 In a shift in its efforts to convince users to start using its Bing search engine, Microsoft launched a campaign effort, called Scroogled last year, looking to convince web users that Google was returning less-than-optimal search results, and later, was tainting shopping searches with paid ads. Now, the software giant has shifted its attack to Gmail, Google's online email service.
Now, it looks like Microsoft has a new target in sight: the online ad model of Gmail. In a new campaign on Scroggled, Microsoft says that Google "goes through every Gmail that's sent or received, looking for keywords so they can target Gmail users with paid ads. And there's no way to opt out of this invasion of your privacy." The firm then provides a link to Outlook.com, Microsoft's alternative to Gmail.
Microsoft has been fighting a slow battle in trying to convince users that Google no longer has its users best interests in mind. Despite a number of unpopular steps by Google -- including presenting only companies paying for placement in its shopping search engine, and tracking and showing people's personal data as part of Google+--the campaign has yet to upste the huge dominance of Google in the search engine arena.
---